| | | |
| --- | --- | --- |
| EDITION 32 | | | 4:19 read time |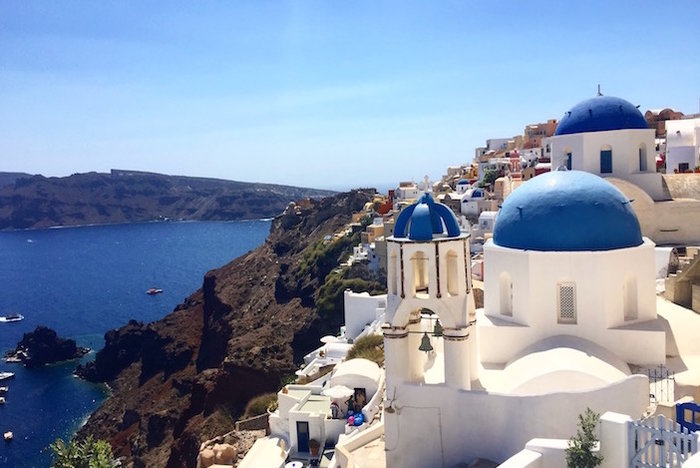 Oia, Santorini | @cristinabattaggia
Santorini is no hidden gem, and you've probably seen photos of its gorgeous, whitewashed villages plastered all over your social media. But there's a good reason this island makes it on every Greek top ten list. From the cliffside views of the sea to the charming back alleys to the stunning sunsets, Santorini is worth more than a mere daydream.
Santorini, Greece
N 36.39° / E 25.46°
#FunFact
Only around 15,500 people live on Santorini, however over 1.5 million visit every year!
@dimimathiou
April-May & September-October
Millions of people visit Santorini every year, swarming off cruise ships and overflowing the island. You can avoid many of these crowds by doing your sightseeing early in the morning or traveling in the fringe season, April-May and September-October. Winter is also steadily becoming more popular, and though you might encounter a little rain, you'll certainly see fewer tourists. Whenever you travel, be sure to book your hotel at least 3 months in advance, or plan on staying on another nearby island.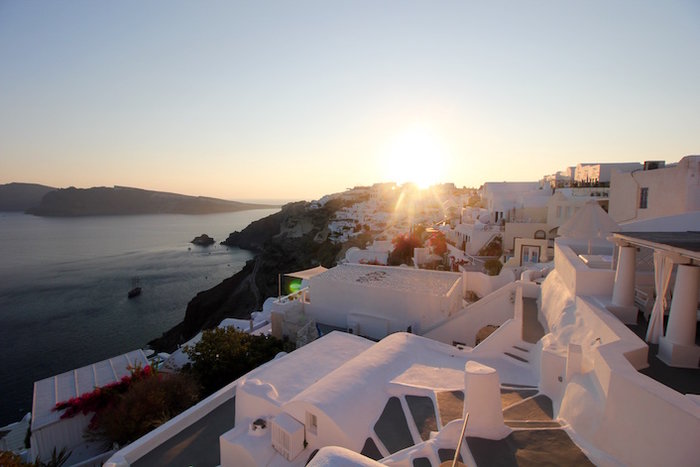 #santorinisunset | @fivesixwithheels
Sunset Seekers
Santorini is famous for its white-washed villages with blue rooftops. But at night, when the sun starts to drop, a whole new world tinged with pink and orange appears. Sunset is almost a holy experience in Santorini, but don't fight the crowds at Oia to watch this phenomenon. Some of our favorite sunset spots include the lighthouse in Akrotiriou, the panoramic view from Imerovigli, or a sunset boat cruise.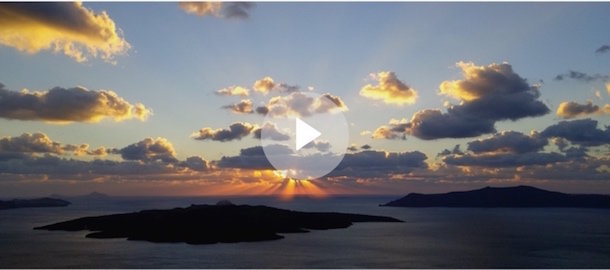 @leo_tafuri
Don't stress about planning your sunset spot. If you pull your car over at any roadside cafe or viewpoint, you're in for an incredible show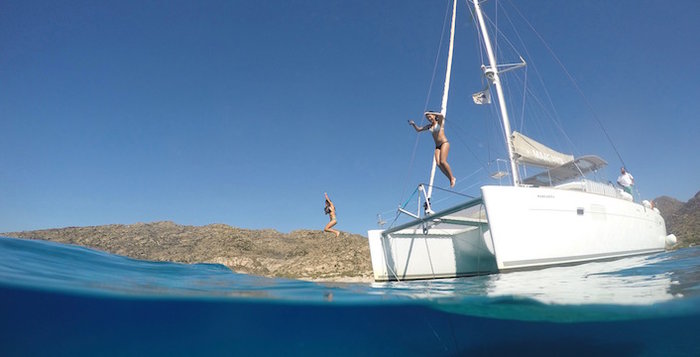 #santorini | @anastasiaadamaki
Find Your Way to the Big Ol' Blue
This crescent-shaped island was formed millions of years ago by a volcano, which gave its beaches striking red, white, and black colors. Most of Santorini's beaches are pretty rocky, though, so be sure to bring water shoes. If you're looking for more of a classic beach vibe with umbrellas and watersports, head over to Perivolos beach. Also worth checking out is Amoudi Bay, which is a great place to go cliff jumping.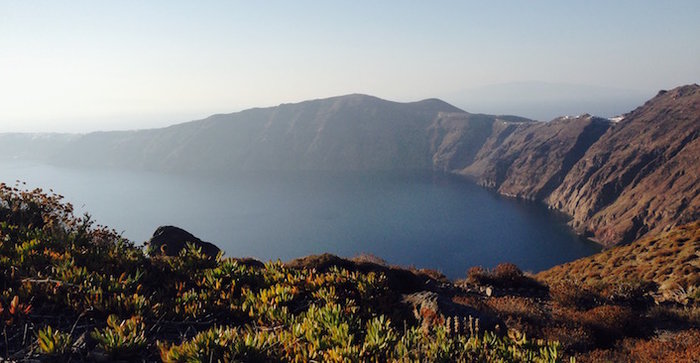 Hiking Trail Fira to Oia, Santorini | @meyuy
Feeling Restless
Santorini may be better known for its quaint villages and gorgeous sunsets, but there's plenty to do for the active traveler. Rent a four-wheeler or moped to explore the island in style. If you're better on your feet, hike the 12km-trail between Oia and Fira for breathtaking views and hidden gem churches. Spend a day exploring Nea Kameri, where you can experience active volcanic craters and take a dip in thermal hot springs. Or take a step back in time, touring the ancient ruins of Akrotiriou.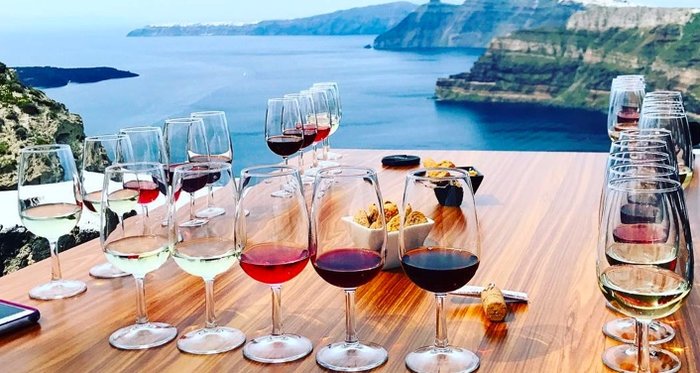 Venetsanos Winery | @worldonaweekend
Wine O'Clock
You know what goes great with a sunset? Wine. And what goes great with a seaside view? More wine! Good thing Santorini has incredible vineyards. Some, like Santo Wines and Venetsanos Winery, feature unbelievable views, so you can sip vino without a care in the world.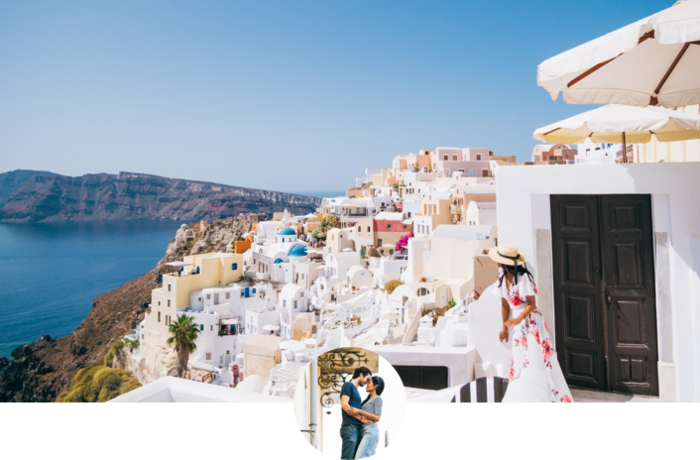 Trina and Pierre's Discovery
@inspiredbytwelve
"Once you're on the island and in a specific village, literally start walking in the opposite direction of the rest of the tourists. In Oia, start to walk down away from the main street. In Fira, walk in the opposite direction of the main cathedral. If you walk far enough, you'll manage to find corners that you'll be able to have all to yourself. We couldn't help running around town like little kids. Santorini is like a photographer's dream come true with its white facades acting as a natural light reflector. You'll be able to take all the photos you want away from crowds."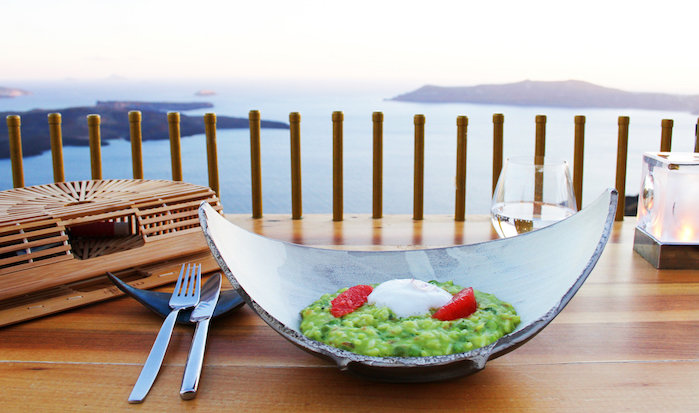 @marianneosterlund
My Mediterranean Diet Starts Now
While in Santorini, you have to splurge for at least one dinner with a view. We recommend Red Bicycle or La Maison, but there are plenty of options for gorgeous caldera view restaurants. But be warned: restaurants with seaside views tend to be a lot more expensive. Some of the best food can be found at traditional Greek tavernas and street cafes off the beaten path. Discoverer Autumn highly recommends sampling the gyros at Lucky's in Fira.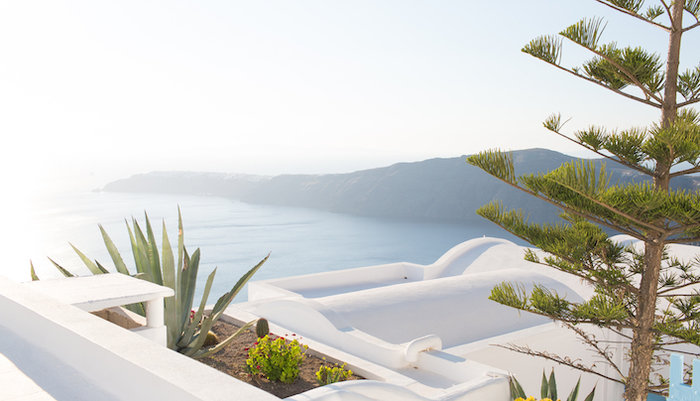 @chaltcev
Vida de Villa
Avoid the big resorts on this island, and spring for something more secluded and private. If you want to go higher end, rent a private villa in Oia with your own pool and a fantastic view. If you need something more budget-friendly, check out the Airbnb listings in Fira. If you are in between luxury and budget, Imerovigli tends to be a good middle ground that is less crowded but still enchanting.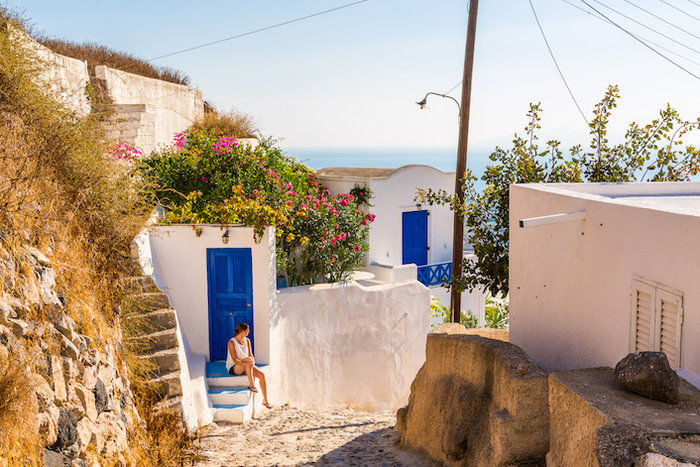 #santorinigreece | @societyofeverywhere
Hydrate
The water is not drinkable from the pipes directly, so you have to buy water bottles regularly, but they are not that expensive. Throwing the toilet paper into the toilet is also forbidden, there are special bins for toilet paper in every bathroom all around the island. - @piakraschevec
Arrange Transportation
When flying/boating to Santorini, make sure you arrange pick up. The airport is among the smallest I've ever seen and is constantly crowded with tourists trying to get taxis and transportation. - @miriamantemie
Lace Up
You must bring a good pair of tennis/walking shoes, and that goes for you ladies as well. Your Christian Louboutins won't make it very far having to go up numerous stairs and rocky pathways. - @christian_ramireztv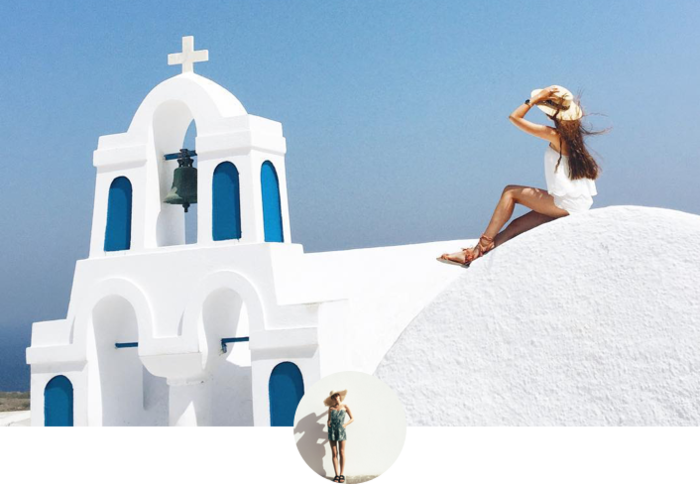 Olga Chagunava
@liolaliola
| | |
| --- | --- |
| Country Count | Favorite Discovery |
| 33 | Kazbegi Mountains |
"I Discover To... live."
"We woke up at dawn and went up to see sunrise from the spot that has the most beautiful view of the town. It was 5am when we reached the place and there were no people on the streets. To our surprise, we saw an old man playing a traditional Greek instrument. Seeing the sunrise to music that he played was magical. It was the best gift I could wish for on the day I turned 30."